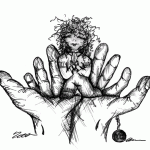 Your Charitable Donation to Dismas Ministry Answers the Prayers of Prisoners in Need
"I was in prison and you visited Me." Matthew 25:36.
Not everyone is able to visit the imprisoned, but you can improve the lives of prisoners and strengthen their relationship with God. Supporting the work of Dismas Ministry gives prisoners access to free bibles, prayer books and spiritual study materials.
Help us continue to serve prisoners, victims, and their families with your gift of:
A financial donation for the work of DISMAS MINISTRY.
Remembering this ministry in your will for a gift that continues to give in your name.
Your gift to Dismas Ministry, which is a 501 © 3, non-profit organization, is tax deductible.
Make a gift to Dismas Ministry now:

or Donate using paypal: